On Thursday, March 3, 2016, members of the faculty and staff of Olivet Nazarene University and The Center for Law and Culture, traveled to Merrillville, Indiana, to attend a dinner sponsored by the Northwest Indiana Women's Center. The featured speaker for the event was Colonel Oliver North, a combat-decorated Marine in the Vietnam War, former counterterrorism coordinator on the National Security Council staff under President Ronald Reagan, bestselling author, and host of Fox News Channel's documentary series War Stories.
Col. North spoke articulately and passionately, imploring attendees to have courage when standing up for the sanctity of human life.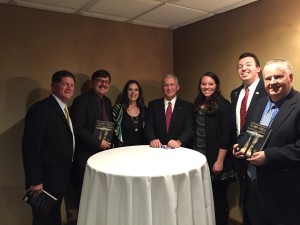 Pictured left to right are event attendees Doug Classen; Dr. Charles Emmerich, Olivet Professor and Executive Director of The Center for Law and Culture; Shannon LaFrance of Olivet's Shine.Fm radio; Col. North; Olivet freshman Legal Studies student, Mackenzie Mehaffey; Center Director, Zach Bohannon; and Rev. Tom Johnston.