Creation Care Concentration at the Law, Justice and Culture Institute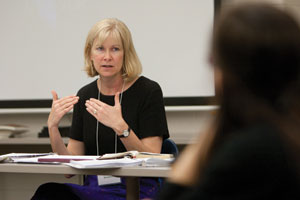 Instructor: Dr. Susan Emmerich, Director of the Creation Care Program
Date: Saturday, May 14, 2016
Time: 8:30 a.m. – 4:30 p.m.
Location: Olivet Nazarene University (Bourbonnais, Illinois)
Required seminar for all Richard Acker Creation Care Scholarship recipients enrolled in the 2016 Law, Justice and Culture Institute, but open to all students and the general public.
Cost: $20 for non-Institute students; $40 for professionals and general community leaders
Description: This one-day practicum will explore biblical principles of stewardship and conflict management based on Emmerich's faith-based stewardship work on Tangier Island shown in her newest film When Heaven Meets Earth: A Faithful Few Changed Everything. Participants will gain the knowledge and tools necessary to apply these methods and principles both at the community level and in the arenas of law and policy.