The Law, Justice and Culture Institute inspires students to formulate a vibrant, biblical view of public engagement in law, government, and politics. Held annually from mid-to-late May at Olivet Nazarene University (Chicagoland), it is an exciting academic experience leading to three-hours of college credit.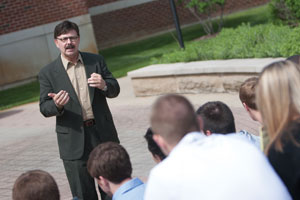 The Institute consists of a rigorous curriculum encompassing classroom instruction, six guest speakers, two law-related dinner movie nights, a field trip to Chicago, and a graduation luncheon featuring an address by a prominent public leader. The Institute inspires college and graduate students to formulate a vibrant, biblically-based conception of politics and law; it also leads to an increased respect for the Western legal tradition's emphasis on the rule of law under God and to the integration of Judeo-Christian ethics into the fields of law, government, and politics.
The Law, Justice and Culture Institute is unique in several respects:
It is conducted in cooperation with the Council for Christian Colleges and Universities (CCCU), InterVarsity Christian Fellowship, the American Studies Program, and the National Association of Evangelicals.
Fourteen CCCU institutions have formally endorsed the Institute: Biola University, Cornerstone University, Covenant College, Eastern Nazarene College, John Brown University, Judson University, Olivet Nazarene University, Point Loma Nazarene University, Redeemer University College (Canada), Southern Nazarene University, Trevecca Nazarene University, Trinity Christian College, Trinity International University, and Wheaton College.
The Center awards generous scholarships to recruit talented students from a broad spectrum of schools; since its inception, 130 students representing 28 schools have received almost $61,000 in financial assistance to attend the Institute.