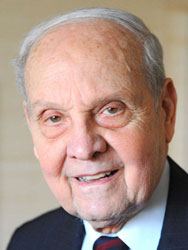 Commemorating one of America's great contributions to Western Civilization, Judge Arlin M. Adams (left) and Executive Director and Professor Charles J. Emmerich are co-authoring A Constitutional Heritage of Religious Liberty. Projected to be over 1000 pages, the treatise explores the unparalleled historical commitment to the principle of religious liberty which emerged in the Anglo-American legal tradition. The work also addresses the "delicate balance" between church and state in this tradition by placing the concept of religious liberty in a historical, interdisciplinary framework. It examines, in particular, the origins and interpretations of the federal constitutional provisions guaranteeing religious liberty–the Article VI clause banning religious test oaths and the principal guarantee, the First Amendment religion clauses. The treatise is a pioneering effort in that it appropriately emphasizes the ancient and English legal antecedents giving rise to the venerable American heritage of religious liberty. When this treatise is released, it is expected to become an important reference for scholars, judges, and practitioners alike, as they continue to wrestle with public policy and delicate issues surrounding the maintenance of religious liberty in a free society.
Judge Arlin M. Adams' distinguished career includes 17 years on the bench of the 3rd U.S. Circuit Court of Appeals and years of involvement in professional, charitable and educational organizations. A long-time friend of Susquehanna University, he was a visiting Woodrow Wilson Fellow at Susquehanna in 1981 and received an honorary doctor of laws degree from the University in 1985.
A Philadelphia native, Judge Adams earned his undergraduate degree from Temple University. He holds a law degree from The University of Pennsylvania Law School, where he served as editor-in-chief of Penn Law Review, and a master's degree in economics awarded by both universities. He is a veteran of naval service during World War II and has had a long history of public service, including a term as secretary of public welfare of the Commonwealth of Pennsylvania from 1963 to 1966. President Richard M. Nixon appointed him to the federal bench in 1969.
He serves as counsel at one of Philadelphia's largest law firms, Schnader, Harrison, Segal & Lewis, where he spends a significant amount of time on issues of public interest. He is also a past president of the American Judicature Society, the American Philosophical Society and a member of Pennsylvanians for Modern Courts.